Oh hey, blogosopshere, fancy bumping into you.
On December 14th, 2009, precisely at 7:51 pm, an anonymous reader of Under Urooba's Umbrella...
made. a. request.
MY FIRST REQUEST.
Hardly a request, but nevertheless, a request.
Not a large request but not a microscopic one either.
Not an infinite request yet not a small finite request.
This is me, fulfilling said request:
In an attempt to alleviate my rather inconsistent mood swings, (what with being a teenager and hormones and all) I decided to dress up one of my bedroom walls with pictures of other people.
UROOBA SOUNDING SANE: 0 UROOBA SOUNDING CREEPY: 1
Oh hush now, by other people, I mean pictures from magazines/other places...
to go on my....Wall of Fashion Inspiration of Extreme and Utterly Inspiring Inspiration (WFIEUI),
first heard about
HERE
.
Anonymous asked me to put up pictures; I'm responding to this request only 1 and a half months later.
(You can always count on me ;) ).
WFIEUI is always changing.
Proof:
WFIEUI ~2 weeks ago
----
WFIEUI now----
Let's play a rowdy game of: CAN YOU SPOT THE DIFFERENCES?
She'll be forever changing.
On to more important things, like the fact that I'm not sure where I'm going with this blog. Like the fact that I'm not sure where I'm going with anything, really. Like the fact that,
BABY ORANGES ARE MIGHTY DELICIOUS. I like peeling their layers. So vulnerable they are.
MAN, I SUCK AT MANAGING MY TIME. THIS IS REALLY STARTING TO MAKE ME ANGRY, I KID YOU NOT.
1, 2, 3, 4, tell me that you love me more.
5, 6, 7, 8, chocolate milk is really great.
OUTFIT TIME, dun dun dun:
Ignore the awkward expressions. Kay, whattheheck, get used to 'em.
Graduating in a matter of a few months. This insinuates feelings that are bittersweet.
VOGUE editorial shot, what say you?
WHAT I'M WEARING:
red jeans- $15, Wetseal
denim shirt- Disney!
yellow, sequined tank- $8.50, Zara
pink fake "Converse"- $5, Ardenes
purse- Urban Behaviour, gifted
pins- Jules and James
black velvet scarf- the motherina's
CIAO, MAMACITAS.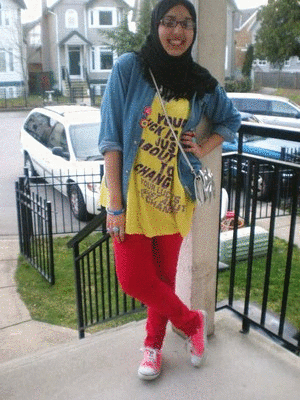 Make your own animation
WAIT! OMG, DOES ANYONE DO BLOG HEADERS!?
LEMME KNOW.